What people say: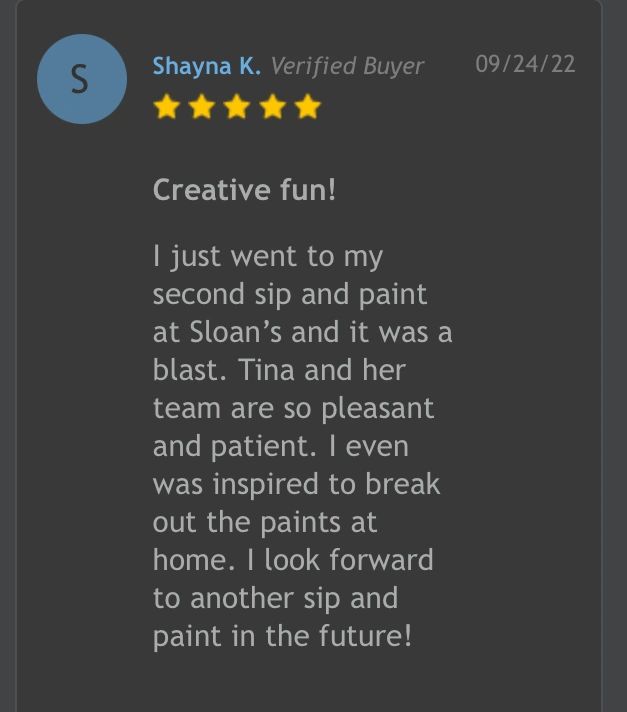 "Loved the experience!! Relaxed teaching, encouraging and thorough. Thank you." L.K.
"Very entertaining and fun experience, everyone so nice and welcoming." Diana
"Amazing first time! Thank you and the amazing helpers! Can't to wait to come back!" A.W.
"I'm first time painter, was fun. A little fast at times, but, overall great. My painting turned out better than anticipated." Anon
    "My passion is art and my desire is to inspire."
 

Tina Escobar is a visionary artist whose passion for color is the driving force behind her imaginative creations. Drawing inspiration from both the inner and outer worlds, she brings to life fantastical beings and creatures that exist beyond our reality. With a keen eye for detail and a vivid imagination, Tina's paintings evoke a sense of mystery and wonder, inviting viewers to explore the depths of their own imagination. Her work is not limited to the fantastical, as she also finds beauty in everyday objects, transforming them into works of art. Through her art, Tina seeks to open a window to the mind of an artist, illuminating the beauty and light that lies within all of us. In addition to creating her own art, she shares her passion by teaching workshops and providing lessons to artists of all ages. With her visionary approach to art and her dedication to teaching, Tina Escobar is a true inspiration to artists and art-lovers alike.
Tina Escobar - Artist at heart is an approved vendor for Mission Vista Academy, Pacific Coast Academy and Cabrillo Point Academy.

May all be well in your world.