What people say: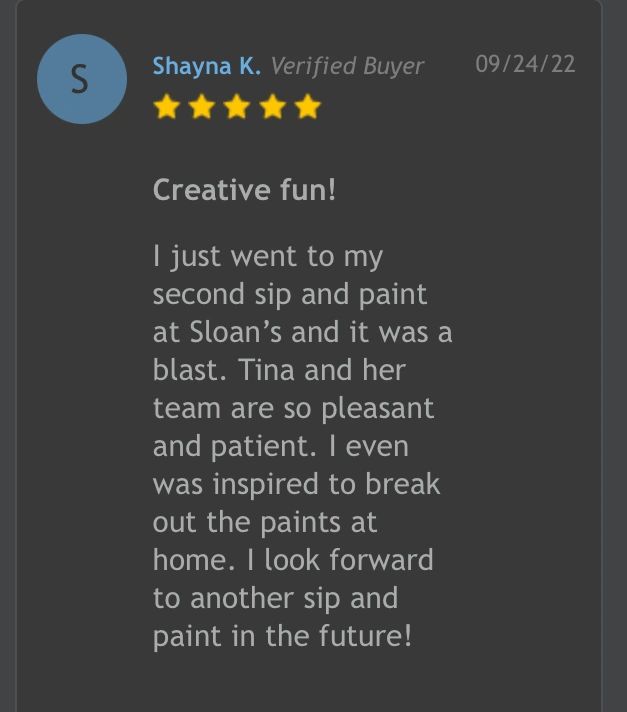 "Loved the experience!! Relaxed teaching, encouraging and thorough. Thank you." L.K.
"Very entertaining and fun experience, everyone so nice and welcoming." Diana
"Amazing first time! Thank you and the amazing helpers! Can't to wait to come back!" A.W.
"I'm first time painter, was fun. A little fast at times, but, overall great. My painting turned out better than anticipated." Anon
    "My passion is art and my desire is to inspire."
 

Tina Escobar as a colorist is best known for her vibrant imaginative art. She creates with acrylics, oil paints and watercolors. Her inspiration comes from nature and how she sees the world in vivid color. She loves sharing her experience by teaching art to kids and adults of all ages, and inspiring new artists. Tina is resident of La Quinta and a California Native.

She continually studies art, drawing and painting with watercolors, acrylics and oils. 

She has been teaching workshops and providing individual and small group lessons since 2016 and loves each and every opportunity to inspire new artists.
"I love color, bright vibrant color. My art comes from visions of inner and outer realms. I paint what I imagine of unseen worlds and dimensions. I see what others don't and attempt to bring it into being, creating a window though which to see beyond our reality. Images come from dreams and from visions while in meditation. Yet some of my work is inspired by ordinary objects that become beings and creatures that exist elsewhere in the cosmos. My work is intended to awaken a sense of mystery and wonder, to open your soul to light and beauty and give you a glimpse into the mind and imagination of an artist." Tina E>

Tina Escobar - Artist at heart is an approved vendor for River Springs and Mission Vista Academy, Pacific Coast Academy and Cabrillo Point Academy.

May all be well in your world.