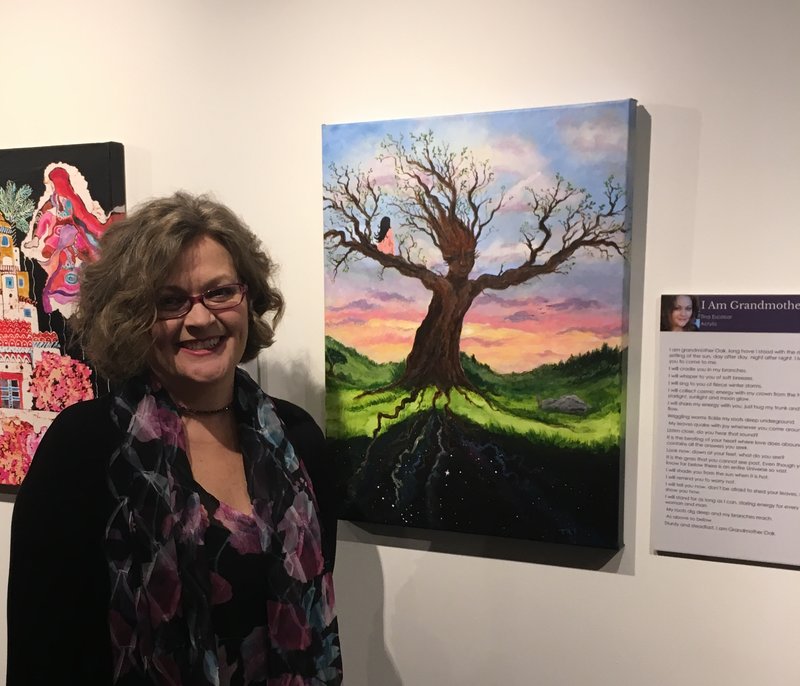 Tina Escobar - Artist at heart is an approved vendor for River Springs and Inspire Charter Schools.

Tina Escobar is pictured here at the La Quinta Museum where her painting "I am Grandmother Oak" was on display as part of the exhibit "Tell Me a Story: Women in the Arts" from January 2017 through April 2017.

Hello my name is Tina Escobar and I'm an artist at heart.
I have dreamed of being an artist since that very first painting in preschool.
My purpose is to bring more beauty into the world and create a new vision along with inspiring others to develop their own unique vision.My mission is to be a guide for others on their own path to discovering their purpose.
I'm committed to my dream of earning a living as an artist and to teaching others to believe in their own gifts and dreams.
As a way to provide for my family, create art and to homeschool, I do artsy parties on location. That means I take my mobile art studio on location for people to come together for a relaxed fun social gathering to express their creativity through acrylic painting.
All supplies are provided and no experience is necessary. I walk students through each painting step-by-step.
Students are encouraged and supported in and fun creative atmosphere as they develop their own unique style.
When the classes over, each student has their very own work of art to take home.
I truly enjoy teaching the young and old alike how to paint with acrylics and share all that I've learned over the years of practicing and experimenting.
I love to create imaginative artwork that has a bit of reality and a touch of enchantment.
I will be creating tutorial videos for those who are not able to attend live classes.

I am excited to now be facilitating Co-create your life vision board workshops.

Artsy parties are available for birthdays, corporate events and things like girls night in.

Happy painting.

Tina Escobar Artist at Heart
Founder
WIN: Women's Intuition Network

Feel free to contact me with any questions.
Art, love, joy - share it, spread it, increase it.
May all be well in your world.